Getting It Done: How Obama and Congress Finally Broke the Stalemate to Make Way for Health Care Reform (Hardcover)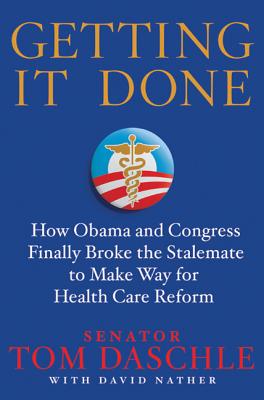 $39.99
Not On Our Shelves—Ships in 1-5 Days
Description
---
Senator Tom Daschle's narrative of what went on behind the scenes in the making of the new health care legislation delivers a powerful lesson in the workings of American politics.
The evolution of health care reform was drawn-out, frustrating, and complicated, but Senator Tom Daschle is the ideal person to recount the process. His account will guide you through the entire story, from the earliest presidential campaign debates -- and his firsthand experiences in the Obama team -- through the battles on Capitol Hill to solve our most serious health care problems. Not simply a book about policy, Daschle's narrative describes in vivid detail how fragile the support in Congress was at every step of the way, as well as the frantic efforts to design a rescue strategy before time ran out.
Combining his insights as a health care expert and his political expertise, this is the inside story about how the new legislation came together: from the persistence of President Obama to the subsequent efforts--and counter efforts--within the Senate and the House. In Daschle's hands, this becomes a dramatic personal story and a remarkable lesson in politics at the highest level.
About the Author
---
TOM DASCHLE is a former U.S. Senator and Senate Majority Leader from South Dakota. He is currently a Senior Policy Advisor to the law firm of DLA Piper and a member of DLA Piper's Global Board. Daschle is a Distinguished Senior Fellow at the Center for American Progress, a co-founder of the Bipartisan Policy Center in Washington DC, and the author of Critical: What We Can Do About the Health-Care Crisis. He is on the board of directors for the National Democratic Institute, a member of the Health Policy and Management Executive Council at the Harvard School of Public Health, and a member of the Council on Foreign Relations. Daschle is married to Linda Hall Daschle and has three children and four grandchildren.DAVID NATHER spent nearly a decade reporting on the politics of Congress and the White House as a senior writer for Congressional Quarterly. He has also covered health care policy in Congress for the Bureau of National Affairs, Inc., and lives with his family in Silver Spring, MD.