A Savage Empire: Trappers, Traders, Tribes, and the Wars That Made America (Hardcover)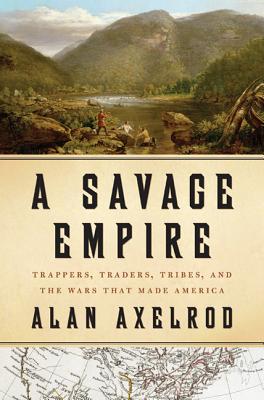 $39.99
Not On Our Shelves—Ships in 1-5 Days
Description
---
A surprising and sweeping history that reveals the fur trade to be the driving force behind conquest, colonization, and revolution in early America

Combining the epic saga of Hampton Sides's Blood and Thunder with the natural history of Mark Kurlansky's Cod, popular historian Alan Axelrod reveals the astonishingly vital role a small animal--the beaver--played in the creation of our nation. The author masterfully relays a story often neglected by conventional histories: how lust for fur trade riches moved monarchs and men to launch expeditions of discovery, finance massive corporate enterprises, and wage war. Deftly weaving cultural and military narratives, the author chronicles how Spanish, Dutch, French, English, and Native American tribes created and betrayed alliances based on trapping and trade disputes, producing a surprisingly complex series of loyalties that endured throughout the Revolution and beyond.
About the Author
---
ALAN AXELROD is the author of The Real History of the American Revolution, What Every American Should Know about American History, Elizabeth I, CEO, and many other works. He is the president of The Ian Samuel Group, a book packager.
Praise For…
---
"Offers a unique take on our country's origins by exploring the bloody history of fur trading, an industry that affected not only fashion but the face of a nation....Thoroughly researched and lucidly composed."—Publishers Weekly
"In A Savage Empire Alan Axelrod does for the beaver what Mark Kurlansky accomplished in Cod and Salt. This is first-rate narrative history."—Thomas J. Craughwell, author of Stealing Lincoln's Body
"In A Savage Empire, Alan Axelrod brings to life a time when empires were built on control over beaver pelts. Before Europeans imposed a new economic system on America, they digested the trapping, tanning and trading system of the Native Americans. Axelrod adeptly outlines the wars in which the French, British and Spanish battled each other and swindled Indian tribes out of the furs on their backs."—Alex Storozynski, Fraunces Tavern Book Award winning author of The Peasant Prince: Thaddeus Kosciuszko and the Age of Revolution
"Magnificent….Filled with feats of superhuman endurance and heroism, as well as stories of horror and unimaginable cruelty."—Joseph Cummins, author of First Encounters
"Alan Axelrod takes a dramatic story - the carving of a new nation out of a formidable wilderness, and the motivations for doing so - and tells it with all the richness and historical accuracy that it deserves. A Savage Empire is at once well researched, thorough, and well written. It's the kind of page-turning history that should be written about this utterly unique period in time, America's colonial frontier experience."—James L. Nelson, author of With Fire and Sword

"Axelrod weaves it all into a whopping good story, an epic saga of exploration, cutthroat trade wars, international intrigues, Indian confederations and the hard life in the North American wilderness, a place perilous for everyone, not least the humble and industrious beaver." —The Washington Independent Review of Books