Red Families V. Blue Families: Legal Polarization and the Creation of Culture (Paperback)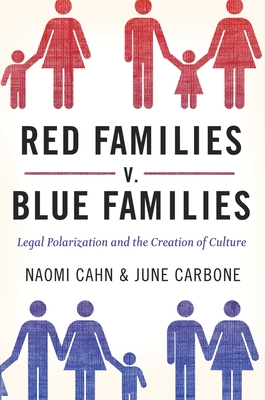 $18.95
Not On Our Shelves—Ships in 1-5 Days
Description
---
Red Families v. Blue Families identifies a new family model geared for the post-industrial economy. Rooted in the urban middle class, the coasts and the "blue states" in the last three presidential elections, the Blue Family Paradigm emphasizes the importance of women's as well as men's workforce participation, egalitarian gender roles, and the delay of family formation until both parents are emotionally and financially ready. By contrast, the Red Family Paradigm--associated with the Bible Belt, the mountain west, and rural America--rejects these new family norms, viewing the change in moral and sexual values as a crisis. In this world, the prospect of teen childbirth is the necessary deterrent to premarital sex, marriage is a sacred undertaking between a man and a woman, and divorce is society's greatest moral challenge. Yet, the changing economy is rapidly eliminating the stable, blue collar jobs that have historically supported young families, and early marriage and childbearing derail the education needed to prosper. The result is that the areas of the country most committed to traditional values have the highest divorce and teen pregnancy rates, fueling greater calls to reinstill traditional values.
Featuring the groundbreaking research first hailed in The New Yorker, this penetrating book will transform our understanding of contemporary American culture and law. The authors show how the Red-Blue divide goes much deeper than this value system conflict--the Red States have increasingly said "no" to Blue State legal norms, and, as a result, family law has been rent in two. The authors close with a consideration of where these different family systems still overlap, and suggest solutions that permit rebuilding support for both types of families in changing economic circumstances.
Incorporating results from the 2008 election, Red Families v. Blue Families will reshape the debate surrounding the culture wars and the emergence of red and blue America.

About the Author
---
Naomi Cahn is the John Theodore Fey Research Professor of Law at George Washington University Law School, a Senior Fellow at the Evan B. Donaldson Adoption Institute, and a member of the Yale Cultural Cognition Project, for which she and her co-investigators have received outside funding to conduct research on public attitudes towards gay and lesbian parenting. She is the author of Test Tube Families and the co-author of several other books, including a leading family law textbook.

June Carbone is the Edward A. Smith/Missouri Chair of Law, the Constitution and Society at the University of Missouri-Kansas City. Professor Carbone writes extensively about the legal issues surrounding marriage, divorce, and family organization, especially within the context of the recent revolutions in biotechnology. She is the author of From Partners to Parents: The Second Revolution in Family Law and co-author of the third edition of Family Law, with Leslie Harris and the late Lee Teitelbaum.