The End of Tsarist Russia: The March to World War I and Revolution (Paperback)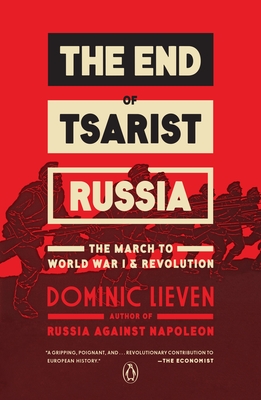 Description
---
AnEconomistBest Book of the Year
AFinancial TimesBest Book of the Year
Winner of the the Pushkin House Russian Book Prize
Finalist for the Lionel Gelber Prize
An Amazon Best Book of the Month (History)

One of the world's leading scholars offers a fresh interpretation of the linked origins of World War I and the Russian Revolution
"Lieven has a double gift: first, for harvesting details to convey the essence of an eraand, second, for finding new, startling, and clarifying elements in familiar stories.This is history with a heartbeat, and itcould not be more engrossing." Foreign Affairs

World War I and the Russian Revolution together shaped the twentieth century in profound ways. In
The End of Tsarist Russia,
acclaimed scholar Dominic Lieven connects for the first time the two events, providing both a history of the First World War's origins from a Russian perspective and an international history of why the revolution happened.
Based on exhaustive work in seven Russian archives as well as many non-Russian sources, Dominic Lieven's work is about far more than just Russia. By placing the crisis of empire at its core, Lieven links World War I to the sweep of twentieth-century global history. He shows how contemporary hot issues such as the struggle for Ukraine were already crucial elements in the run-up to 1914.
By incorporating into his book new approaches and comparisons, Lieven tells the story of war and revolution in a way that is truly original and thought-provoking.
From the Hardcover edition.
About the Author
---
Dominic Lieven is a senior research fellow at Trinity College, Cambridge, and a fellow of the British Academy. He previously taught Russian Studies at the London School of Economics for thirty-three years. His last book, Russia Against Napoleon, won the 2009 Wolfson Prize for History and the Prix Napoleon.