A Treasury of Great American Scandals: Tantalizing True Tales of Historic Misbehavior by the Founding Fathers and Others Who Let Freedom Swing (Paperback)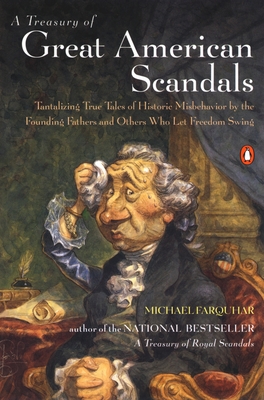 $17.00
Not On Our Shelves—Ships in 1-5 Days
Description
---
Following on the heels of his national bestseller
A Treasury of Royal Scandals
, Michael Farquhar turns his attention to matters a little closer to home with
A Treasury of Great American Scandals
. From the unhappy family relationships of prominent Americans to the feuds, smear campaigns, duels, and infamous sex scandals that have punctuated our history, we see our founding fathers and other American heroes in the course of their all-too-human events. Ineffectual presidents, lazy generals, traitors; treacherous fathers, nagging mothers, ungrateful children, embarrassing siblings; and stories about insanity, death, and disturbing postmortems are all here, as are disagreeable marriages, vile habits, and, of course, sex: good sex, bad sex, and good-bad sex too. We can take comfort in the fact that we are no worse and no better than our forebears. But we do have better media coverage. Bonus educational material:
A brief history of the United States, including scandals

The American Hall of Shame

A complete listing of presidential administrations
About the Author
---
Michael Farquhar is a writer and editor at the Washington Post specializing in history. He is the author of the bestsellers A Treasury of Great American Scandals and A Treasury of Royal Scandals. He appeared on the History Channel's Russia, Land of the Tsars and will be featured on a forthcoming program about the French Revolution.