Whistle for Willie (Paperback)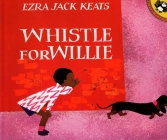 Description
---
Since it was first published in 1964, "Whistle for Willie" has delighted millions of young readers with its nearly wordless text and its striking collage artwork depicting the story of Peter, who longs to whistle for his dog. "The New York Times" wrote: "Mr. Keats' illustrations boldly, colorfully capture the child, his city world, and the shimmering heat of a summer's day.
About the Author
---
Ne en 1916 dans une famille juive polonaise installee a New York, Ezra Jack Keats revele tres tot de reels talents artistiques. Il grandit sous le nom de Jacob - Jack - Ezra Katz et ne prit le pseudonyme de Keats qu apres la Seconde Guerre mondiale, en reaction a l antisemitisme ambiant. Cette experience personnelle de la discrimination ancra en lui une profonde sympathie pour tous ceux qui souffraient de l intolerance, quelle qu elle soit. Il fut ainsi le premier auteur americain a offrir dans ses histoires une place centrale aux enfants noirs. Dans ses livres, Keats aime utiliser des techniques artistiques inedites, afin de donner a ses personnages une touche unique. Dans Un garcon sachant siffler, il a ainsi mele crayonnes, jeux de matieres, gouache et collages pour faire vivre l univers de Sam. Puisant dans ses propres souvenirs, les histoires de Keats s inspirent de la vie de famille, des plaisirs simples et des petits problemes quotidiens rencontres par les enfants. C est probablement ce melange de simplicite et de sincerite qui ont rendu les livres et les personnages de Keats si populaires.
A sa mort en 1983, Keats etait l illustrateur de plus de 85 livres pour enfants, et l auteur-illustrateur de 24 ouvrages desormais classiques.