Proof of Guilt (Large Print / Paperback)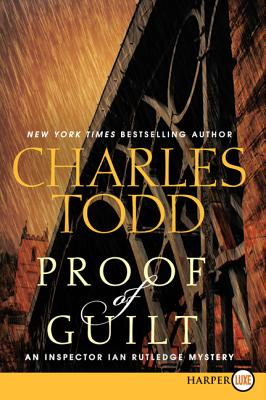 $25.99
Special Order—Subject to Availability
Description
---
Scotland Yard's Ian Rutledge must contend with two dangerous enemies in this latest complex mystery in the New York Times bestselling series
An unidentified body appears to have been run down by a motorcar and Ian Rutledge is leading the investigation to uncover what happened. While signs point to murder, vital questions remain. Who is the victim? And where, exactly, was he killed?
A clue leads Rutledge to a firm, built by two families, famous for producing and selling the world's best Madeira wine. There he discovers the current head of the English enterprise is missing. But is he the dead man? And do either his fiancee or his jilted former lover have anything to do with his disappearance?
With a growing list of suspects Rutledge knows that suspicion and circumstantial evidence is nothing without proof of guilt. But his new acting chief superintendent doesn't agree and wants Rutledge to stop digging and settle on the tidy answer. Rutledge must tread very carefully, for it seems that someone has decided that he, too, must die so that cruel justice can take its course.