Wench (Paperback)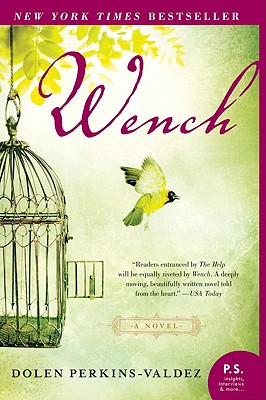 Description
---
wench \'wench\ n. from Middle English wenchel, 1 a: a girl, maid, young woman; a female child.
Situated in Ohio, a free territory before the Civil War, Tawawa House isan idyllic retreat for Southern white men who vacation there every summerwith their enslaved black mistresses. It's their open secret. Lizzie, Reenie, and Sweet are regulars at the resort, building strong friendships over theyears. But when Mawu, as fearless as she is assured, comes along and starts talkingof running away, things change. To run is to leave everything behind, and forsome it also means escaping from the emotional and psychological bonds thatbind them to their masters. When a fire on the resort sets off a string of tragedies, the women of Tawawa House soon learn that triumph and dehumanization areinseparable and that love exists even in the most inhuman, brutal of circumstances all while they bear witness to the end of an era.
An engaging, page-turning, and wholly original novel, Wench explores, withan unflinching eye, the moral complexities of slavery.
Praise For…
---
"[E]lectrifying. . . . [T]his remarkable novel skillfully dramatizes a dark chapter in American history. Writing with lyrical grace and a gift for plot development, Perkins-Valdez has produced an inspiring portrait of four brave women and the risks they take to change their lives."
-BookPage

"[A] fascinating and tragic story. . . . [A] compulsive read."
-NPR.org, Book Club Pick

"[A] memorable and engaging debut."
-Library Journal, Best Books of 2010

"Readers entranced by The Help will be equally riveted by Wench. A deeply moving, beautifully written novel told from the heart."
-USA Today

"A heartbreaker, full of understated tragedy and lyrical prose. . . . Perkins-Valdez has woven a devastatingly beautiful account of a cruel past."
-People

"Perkins-Valdez manages to shed a poetic light on one of the ugliest chapters in American history."
-Essence

"A fabulously creative and daring historical novel ."
-Dawn Turner Trice, Chicago Tribune

"Perkins-Valdez memorably portrays how the entwined destinies of chattel and master, increasingly related by blood, passion and hatred, prefigure the looming national conflict. This is an almost forgotten, but important, chapter in American history--recorded as fiction but nonetheless full of hard facts."
-Town & Country

"A mesmerizing read."
-Seattle Times

"Absolutely phenomenal. . . . Wench is an excellent novel that will appeal to many readers. Debut author Dolen Perkins-Valdez has crafted a historical narrative that shouldn't be missed."
-Sacramento Book Review

"A powerful story."
-Sequim Gazette

"Dolen Perkins-Valdez's debut novel, Wench, is outstanding: well crafted, imaginative, spellbinding, and above all satisfying."
-World Literature Today

"Impressive. . . . There are countless stories to be told and to be read regarding the lingering emotional impact of slavery; and here, Perkins-Valdez has imagined a memorable one, her characters are framed within a well-crafted and expressive narrative."
-The Network Journal

"In her debut, Perkins-Valdez eloquently plunges into a dark period of American history. . . . Heart-wrenching, intriguing, original and suspenseful, this novel showcases Perkins-Valdez's ability to bring the unfortunate past to life."
-Publishers Weekly

"A striking debut intimately limns a Southern slave's complicated relationship with her master. . . . Compelling and unsentimental."
-Kirkus Reviews

"[A] memorable first novel . . . Readers of historical fiction centering on Southern women's stories like Lalita Tademy's Cane River or Lee Smith's On Agate Hill will be moved by the skillful portrayal of Lizzie's precarious situation and the tragic stories of her fellow slaves."
-Library Journal (starred review)

"Drawing on research about the resort that eventually became the first black college, Wilberforce University, the novel explores the complexities of relationships in slavery and the abiding comfort of women's friendships."
-Booklist

"A finely wrought story that explores the emotional lives of four slave women caught in the web of the Peculiar Institution."
-Lalita Tademy, author of Cane River and Red River

"This elegantly-structured novel sheds much-needed light on the racial intricacies of America's past."
-Margaret Cezair-Thompson, author of The Pirate's Daughter (a #1 Indie Next Pick)

"Through unforgettable characters and luscious prose, Wench stares down the difficult truths while never losing its beautiful beating heart. With all the weight of a historical excavation and the urgency of a page-turner, Perkins-Valdez establishes herself as a powerful new voice in fiction. "
-Tayari Jones, author of Leaving Atlanta and The Untelling

"A shattering story told with dignity, compassion, and some wicked humor. A brave, honest, beautifully written book that will shock and move readers to much new awareness."
-Sigrid Nunez, author of The Last of Her Kind and A Feather on the Breath of God

"Perkins-Valdez crawls under your skin and probes most gracefully in clear, concise lyric prose, ultimately asking the question that only extraordinary fiction can ask--what would you have done? A superb and outstanding achievement."
-Jeffrey Lent, author of In the Fall and A Peculiar Grace