Week's Best Deals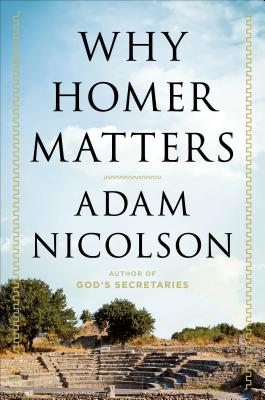 Why Homer Matters—Adam Nicolson's heartfelt and illuminating book gives you many reasons. There's Homer's unblinking presentation of the realities of war and heroism, loyalty and grief, and there's Nicholson's own contribution to "the singing hereafter." Describing Homer as "the human spirit on fire," and the epics as having been "invented after memory and before history," Nicolson follows that spirit through a wide range of times, landscapes, cultures, and languages; he's assembled a rich composite picture of the Homeric tradition, one that's as personal as it is scholarly. Available in hardcover, $8.98.
Oliver Otway Orme—his initials might add up to nothing, but make no mistake: he's smart and resourceful, and always gets what he's after. At least—he used to. The curmudgeonly hero of John Banville's latest novel, The Blue Guitar, Oliver is pushing fifty and can't finesse things the way he used to. A painter, he suddenly hits a slump. A thief, he's caught for the first time—stealing his best friend's wife. In an effort to sort things out, he leaves town and goes back to the house where he grew up. As always, Banville has created a character you probably wouldn't like in person, but on the page you have to admire his audacious self-confidence. Available in hardcover, $8.98.
John Irving has few rivals as a storyteller, and his recent Avenue of Mysteries is the deftly plotted tale of a writer who starts out as a poor illiterate boy in the slums of Mexico. Scavenging dumps for books, Juan Diego teaches himself to read. Meanwhile, his sister Lupe practices her own brand of literacy: she reads minds. Or parts of minds. Sensitive to how people they think about their pasts, she's can predict only so much about their futures. For her brother, the future seems only to lead back, and Irving traces his life full circle. Available in hardcover, $7.98.
Please call us or stop by the store to shop for these and other discounted titles.
- Laurie Greer